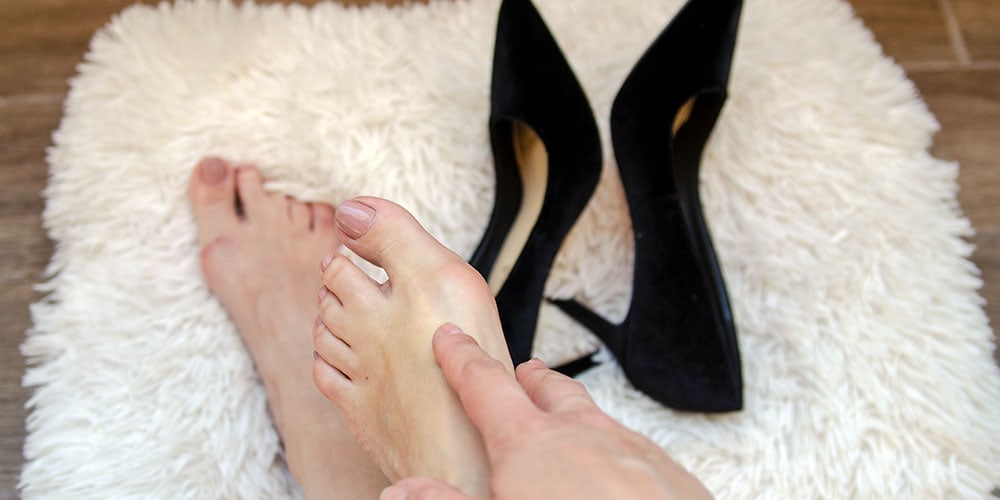 Are bunions painful?
If you're one of the 5 million Americans suffering each year from painful bunions, you already know the correct reply. Heck yes. They can cause so much foot pain you don't even want to walk to the refrigerator for a snack, much less take part in your daily activities.
But pain is subjective. On a scale of one to ten, a bunion could be at either end of the spectrum. It all depends on how long the bunion has been forming — and what you intend to do about it.
At the Bunion Institute, our doctors are aware that bunion deformities (also called hallux valgus) are the most common foot problems in the nation, second only to ankle sprains.
But here's the problem: only about one-third of those with bunions seek help from a podiatrist or foot and ankle specialist. Bunions only get worse, and the gnarly big toe joint can lead to other conditions, such as a hammertoe.
Women experience the majority of bunions, mainly because of wearing ill-fitting shoes as well as high heels.
What does bunion pain feel like?
Bunions appear as inflamed bony bumps at the base of the big toe. At the beginning of their formation, there may be very little, if any, real pain. You may observe a little redness, plantar fasciitis, heel pain, a stiff big toe, or trouble walking in tight-fitting shoes.
Though simply annoying at the beginning of formation, they are often not painful at that point. But as bunions progress, the area becomes increasingly swollen, red, shiny, and tender to the touch.
Soon, you may develop a callus where the first and second toes rub together from being pushed by the bunion. At this point of bunion development, you may feel constant burning bunion pain, or discomfort may come and go. Often your walking aggravates the ligaments in the knee.
Take a close look at your life as the bunion becomes more pronounced and begins causing pain a great deal of the time. If you are unable to do activities that you normally enjoy because of discomfort, it may be time to take some sort of action.
Throbbing bunion pain at night
It's bad enough that bunions can be extremely uncomfortable when walking or wearing shoes that fit too tight. On top of that, nerves being compressed by the bony growth often choose the nighttime to fire off, which causes soreness and throbbing.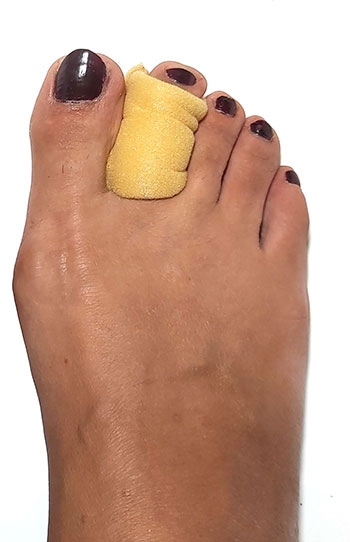 Phase 1: Relieving bunion pain
If your swollen bunions are causing you considerable pain when you walk, your chances of getting relief from over-the-counter bunion pain relievers are slim at best.
However, there are several methods of non-surgical treatment you can try. These foot care options include:
Applying ice to the swollen area and keeping your foot propped up
Applying bunion pads to limit your foot rubbing on your shoe
Wearing wider shoes with custom orthotics
Cortisone injections
Physical therapy
One or all of these tactics may provide temporary pain relief. But, sadly, none of those methods do a darn thing about getting to the root of the problem.
Phase 2: Long-term bunion pain relief
Let our board-certified podiatry experts examine your problem. Only after X-rays will you get a complete picture of your condition and the best way to solve it. Depending on the size of your bunion, the Bunion Institute offers three types of foot surgery remedies at our surgery center.
miniBunion Minimally Invasive Bunion Surgery™: For patients with mild to moderate bunion deformities, the miniBunion outpatient surgical procedure has revolutionized minimally invasive bunion treatment. Our DPMs make a tiny incision and use patent-pending hardware to provide durable stabilization, faster recovery time, less pain, and minimal scarring.
Chevron Osteotomy Bunionectomy: For active patients under the age of 50 with mild to moderate, but not severe, bunions, the Bunion Institute developed a method to create a sturdier, faster-healing, and more cosmetically appealing correction. This treatment lets patients bear weight immediately after surgery without the need for a cast.
Forever Lapidus Bunionectomy™: Perfected by our bunion surgeons for people with severe bunions, Forever Lapidus helps patients have speedier recoveries, with little or no pain, less downtime, earlier weight-bearing, and minimal scarring. It also comes with an almost zero-percent recurrence.
Why select the Bunion Institute?
The Bunion Institute (and its parent practice, University Foot and Ankle Institute) offers patients in the greater Los Angeles area cutting-edge bunion treatments, including many that are non-surgical.
Our foot doctors are internationally recognized for their surgical expertise and experience with all types of bunion correction surgeries. But even though we are surgeons, we believe that surgery should never be taken lightly and only pursued when other treatment options fall short or aren't feasible.
For almost two decades, the doctors at the Bunion Institute have been providing patients with the most advanced bunion treatments, many of which we either invented or participated in their development. As a result, our doctors, members of the American College of Foot and Ankle Surgeons gained nationwide notoriety as a leader in the science and technology behind bunion treatment.
Click here to see real patient testimonials.
Schedule a consultation online or call (855) 814-3600.
The Bunion Institute takes our patients' safety seriously. Our facility follows Covid-19 patient safety procedures that exceed all CDC recommendations. Masks are always required in our institutes.
We are conveniently located to patients throughout Southern California and the Los Angeles area. Our Beverly Hills office is conveniently located near Santa Monica, West Los Angeles, Culver City, West Hollywood, Downtown Los Angeles, Marina del Rey, Pacific Palisades, Malibu, Manhattan Beach, Sherman Oaks, and Encino.