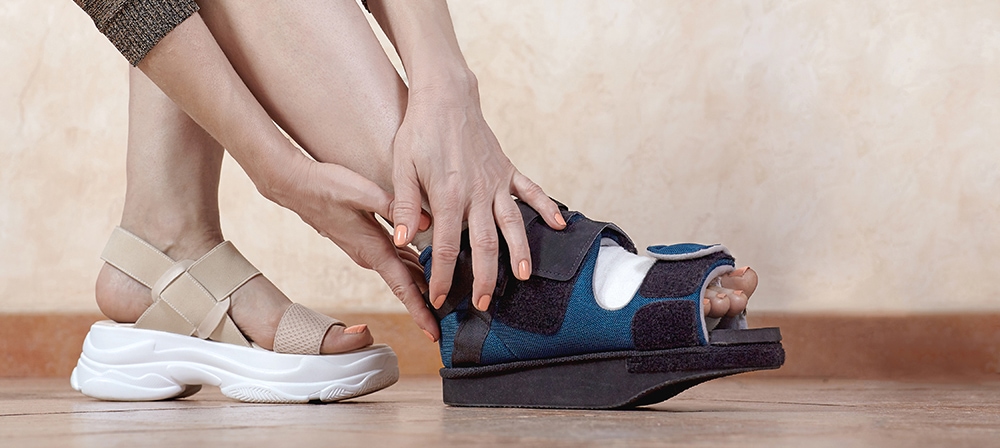 Many patients tell us that the biggest reason they put off getting bunion surgery (or bunionectomy) is that they're afraid they'll be laid up for weeks, depending on family and friends for daily self-care tasks.
This is simply not the case. In fact, you'll be mobile either immediately or, for more serious bunion corrections, in a few days with the help of walking aids. Although you'll have a certain amount of independence, we can't overstate the importance of having a well-thought-out post-bunionectomy recovery plan.
The truth is, a bunionectomy can be a significant surgical procedure for those with bad bunion deformities, so it's important to be prepared so you can have a speedy recovery that is as easy as possible.
We've put together a list of tips for recovering from foot and ankle surgery to help patients prepare themselves and their homes to achieve the best possible post-op outcome.
1. Time your bunion surgery carefully.
Schedule your surgery when you will be able to take the appropriate amount of time off for a healthy recovery. Keep in mind that, depending on your exact bunion surgery, you may not be able to walk for a few days and will need to keep your foot elevated for a period of time to help your healing process.
Again, depending on your type of bunion surgery, you may be able to return to work the very next day if you do not walk or stand much at work; if your work requires standing or prolonged walking, you may need a few days off.
If your job requires a lot of standing or walking and you had a severe bunion, you will need to ask your doctor how long you will need to take off work. Many people plan their surgeries around work holidays and vacations or make arrangements to telecommute during their recovery to minimize the impact of any downtime.
Some other items to consider: Do you have a vacation planned that you want to be ready for? Are you involved in your kids' carpool and need to be ready to drive before the school year begins? Is there a social event that you want to attend walking normally and wearing dress shoes?
2. Line up your support system
No person is an island! And if you corrected a more serious bunion (or one with a hammertoe correction) you probably do not want to get through a bunion surgery recovery 100% on your own. Assemble a list of family and friends who can maybe make you some hot meals if you do not want to order in all the time, check in on you, help you get to appointments, run errands, or perform must-do household chores (this last one might require paid help if your family members can't step up).
If you live alone, give a trusted friend a key to your home so that they can let themselves in if you can't get to your door. It's important to line up your helpers early so you can figure out if you'll need backups. You'd be surprised how many friends will be more than happy to lend a hand.
3. Set up your lines of communication
If you have a land telephone line, forward all calls to your mobile phone. Consider setting up a WhatsApp chat group to communicate easily with your support posse. And don't forget to add your doctor's phone number to your cell phone contacts.
4. Gather convenience items to make your recovery more comfortable
Although you'll be discharged on the day of surgery with crutches, there are other items that will make your life easier once you're home. Consider buying, borrowing, or renting the below list of things to simplify your life during your post-operative period: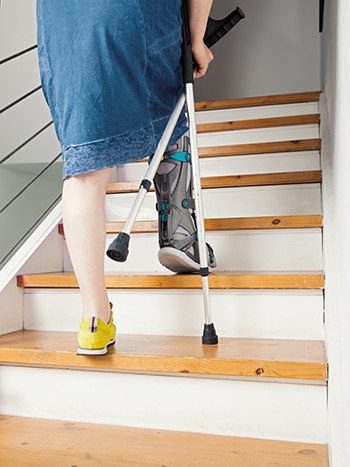 A bath bench or shower chair: this not only helps reduce your risk of falling but also allows you to elevate your foot while showering to decrease foot swelling and pressure.
A cast cover or plastic bags that you can use to keep your cast and stitches dry while showering. Make sure you ask your doctor about this.
Two sets of re-freezable ice packs are handy for managing foot pain and swelling during the early recovery period. Re-freezable packs are much easier to use than homemade ice packs, don't leak, and you don't need to worry about running out of ice. Simply keep your spare pack at the ready in the freezer.
Extra pillows to keep you comfortable and your foot propped up when you're lying or sitting for long periods.
Hand sanitizer and cleaning cloths: to stay clean between trips to the bathroom and kitchen.
One or more metal water bottles: to keep hot or cold beverages convenient.
Consider a cell phone pouch you can wear around your neck to keep your mobile handy and your hands free.
A spare cell phone charger to keep one at the bedside and another by the sofa or near your daytime sitting area.
5. Find your happy place
Figure out where in your home will be the most suitable spot for you to spend most of your time. It should be on the main floor close to a bathroom and should also include an arrangement for elevating your foot. Try to avoid a spot that requires you to go up and down stairs throughout the day. You might want to set up a TV or computer table within reach. Make sure that your spot is well lit and sunny to help keep your spirits up!
6. Consider how to set up your kitchen
Put glasses, dishes, bottled water, and items you use every day where they'll be easy to reach if you'll be using crutches, a scooter, a wheelchair, or knee walker. Stock your home with two weeks' worth of groceries. Plan meals that require minimal prep work. Pre-cook and freeze meals, you can heat them up in the microwave and eat.
7. Further preparing your house for foot surgery
Give yourself room to maneuver safely by clearing away bulky furniture, loose rugs, floor lamps and electrical wires that can trip you. Clear a path between your recovery area and the front door. Set up night lights to give you good visibility to get to the bathroom at night.

Remember, if you had a serious bunion deformity, during the first week you'll want most everything at your fingertips. If you live alone, consider setting up an ice chest with bottled water and prepared meals to keep kitchen trips to a minimum. Have remote controls for the TV, fan, and AC/heater within reach. Set up a small table to keep your pain and anti-inflammatory medications handy.
8. Have a plan for getting home after bunion surgery
Immediately after your surgery, you may have some discomfort, and you may have some non-weight-bearing restrictions on your operated foot, depending on the type of bunion surgery you have.

You definitely will not be able to drive on the day of your surgery. That's why you must plan on having a friend or relative take you home. Your doctor (or in the rare case, an anesthesiologist) will not clear you for discharge without someone present to take you home.
Why choose the Bunion Institute for your bunion surgery?
If you're experiencing bunion pain, we're here to help. Our nationally recognized foot and ankle podiatry experts offer the most advanced bunion solutions and the highest success rates in the nation. We are leaders in the research and treatment of all bunion conditions.
At the Bunion Institute (an affiliate of the University Foot and Ankle Institute), we take our patients' safety seriously. Our facility's Covid-19 patient safety procedures exceed all CDC recommendations. Masks are required in our institutes at all times.
To schedule a consultation, please call (855) 872-5249 or make an appointment now.
We are conveniently located through the Los Angeles area with locations in or near Santa Monica, Beverly Hills, West Los Angeles, Manhattan Beach, Northridge, Downtown Los Angeles, Westlake Village, Granada Hills, and Valencia California, to name a few.