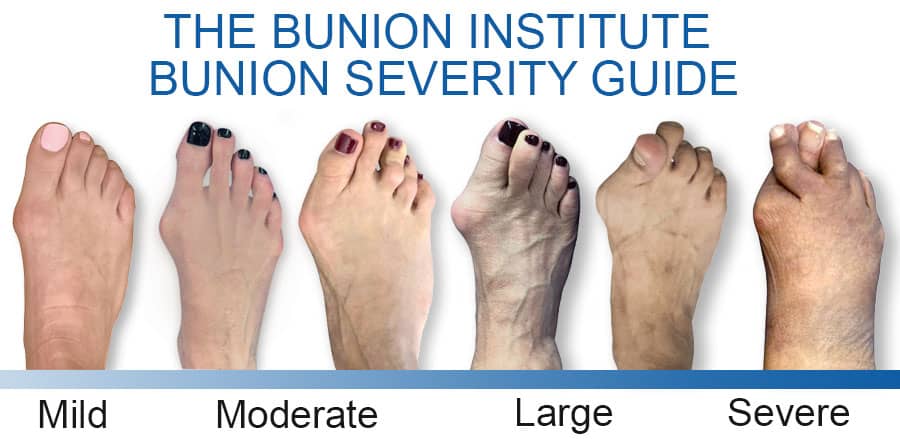 Finally, a minimally invasive bunion surgery that really works
A bunion (also called hallux valgus) is the often unsightly and painful bony bump by the base of the big toe (or little toe). And if bunion deformities are left untreated, they can cause other issues, such as hammertoe and big toe arthritis.
A bunionectomy is basically an operation that involves straightening the toe and metatarsals caused by a bunion. But many who suffer foot pain from bunions avoid surgery for fear of:
A slow and painful recovery
Unsightly scarring
Missing long periods of work
Not being unable to take care of themselves or their responsibilities.
That is why our foot and ankle surgeons have advanced the different types of minimally invasive (MIS) bunion surgeries and helped develop many of the techniques currently used across the world. Advancements in MIS bunion surgery offer patients unparalleled success due to its advanced stabilization, quick recovery, immediate weight-bearing, and virtually no post-op pain or scarring compared to any previously available minimally invasive bunion surgery.
---
The past problems with minimally invasive bunion surgery
Over the years there have been over 40 different types of bunion surgery treatment options, yet only a handful, such as an osteotomy and Lapidus Bunionectomy, have been proven to be truly effective. Unfortunately, minimally invasive bunion surgery has been publicized by many surgeons over the years, but sadly they have all had an unacceptably high failure rate. That is until now.
Why our minimally invasive bunion surgery is ideal
Our minimally invasive surgical procedure has revolutionized MIS bunion treatment. It uses a tiny incision and stabilizing screws to provide durable stabilization, faster recovery time, less pain, and minimal scarring.
In short, our minimally invasive bunion correction provides the best possible surgical outcomes for a patient with mild to moderate bunion deformities.
With this technique, there is no need to open the joints which spare blood supply to the bones, so patients don't have inner and external scar tissue as they would with traditional bunion surgery. This means a reduced time in physical therapy and less need for the painful break-up of scar tissue in the big toe joint.
During our MIS procedure, our surgeons are guided by x-ray and use a special instrument to shave the bone at the joint and insert the stabilizing screws. This allows our bunion surgeons to perfectly stabilize the bone and get an accurate and reproducible correction, resulting in reduced swelling, less post-operative pain, better correction, and immediate weight-bearing.
And unlike old-fashioned minimally invasive bunion surgery procedures, our minimally invasive technique requires tiny micro-incisions (just a few millimeters long), resulting in much less trauma to the surrounding soft tissues. The MIS scar is tiny. And unlike traditional bunionectomies, the tiny scar is on the inner side of the foot, where it's virtually invisible during everyday activities.
---
A walking minimally invasive bunion surgery recovery!
Many patients report NO PAIN following the procedure and the MIS bunion correction's advanced hardware allows most to walk immediately following surgery in a special postoperative weight-bearing boot. Our bunion surgeons control pain by:
Expert surgical precision
A properly fixated bone, which means less movement, and in turn, reduced swelling and less pain.
Proprietary cocktail of long-lasting local anesthesia
Advanced anti-inflammation protocols following the

minimally invasive

surgery
---
What happens in the minimally invasive surgery?
The minimally invasive bunion procedure begins with a local anesthetic to numb the area surrounding the bunion. This is accompanied by mild sedation to relax the patient.
Tiny micro-incisions, just a few millimeters long are made at the targeted positions of the foot. Guided by an x-ray, a specialized instrument is used to shave the bone at the joint and insert two stabilizing screws. The procedure realigns the metatarsal and toe bones and causes little or no scarring. The procedure is always performed on an outpatient basis.
---
Does insurance cover minimally invasive bunion surgery?
Yes! Bunion correction surgery is very commonly covered by most insurance policies. While our MIS bunion correction is a new and advanced technique, it is still classified as a bunion correction and is covered by most insurance plans.
---
Will minimally invasive bunion correction work for every type of bunion?
While our MIS bunion surgery is the ideal corrective procedure for most bunion sufferers, severe bunions may require a different approach to successfully correct the deformity. Your foot surgeon will discuss your specific condition and anatomy and help you decide on the best surgical option.
---
Why choose the Bunion Institute for your bunion care?
If you're experiencing bunion pain, we're here to help. Our board-certified foot and ankle surgeons offer the most advanced bunion solutions and the highest success rates in the nation. Our podiatry experts (called DPMs for short) have decades of experience and are leaders in the research and treatment of all bunion conditions.
At the Bunion Institute (an affiliate of the University Foot and Ankle Institute), we take our patients' safety seriously. Our facility's Covid-19 patient safety procedures exceed all CDC recommendations. Masks are required in our facilities at all times
To schedule a consultation, please call (855) 814-3600 (24 hours a day) or make an appointment now.
Our foot doctors are conveniently located throughout Southern California and the Los Angeles area with locations in Santa Monica (on Wilshire Blvd.), Beverly Hills, West Los Angeles, Manhattan Beach, Northridge, Downtown Los Angeles, Westlake Village, Granada Hills, and Valencia California, to name a few. All locations have wheelchair accessibility.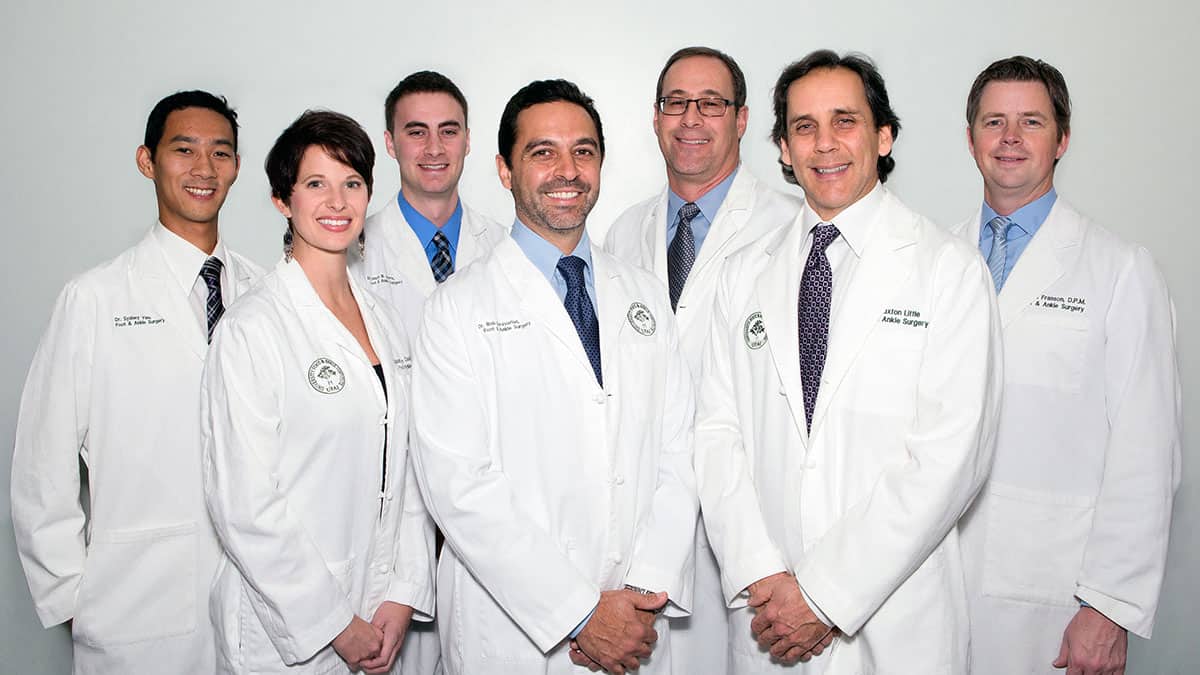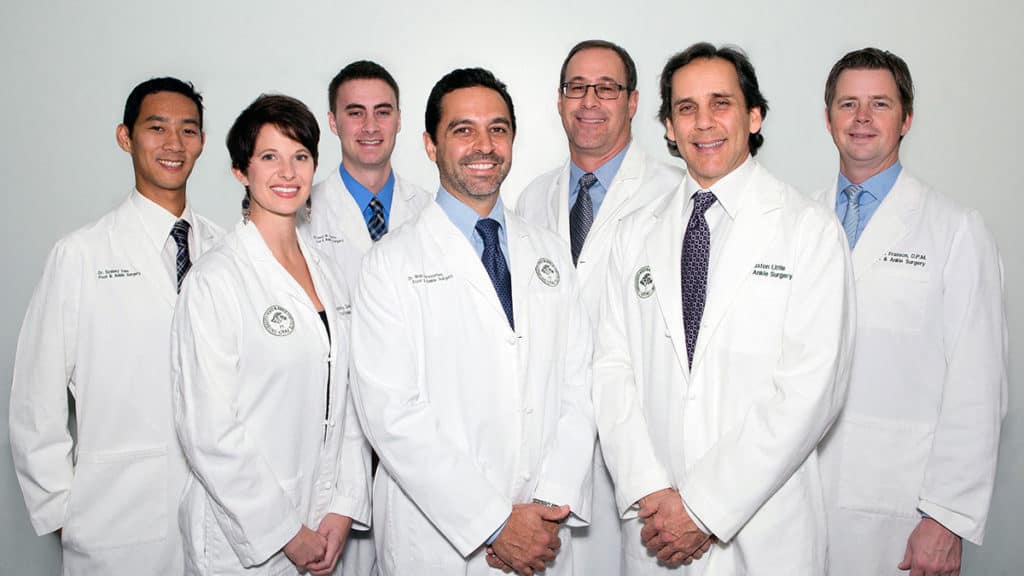 ---