What is a bunion?
A bunion (hallux valgus) forms at the base of the big toe where the metatarsophalangeal (MTP) joint angles out from the foot. The big toe starts to point inward towards the second toe, causing the first metatarsal bone to protrude outward.
This causes the joint to become inflamed and painful. The foot deformity develops from years of pressure on the big toe joint. The joint gets out of alignment, and a bony bump forms.
Bunions are one of the most common foot problems, affecting an estimated 25-33% of adults, and over 5 million people in the US.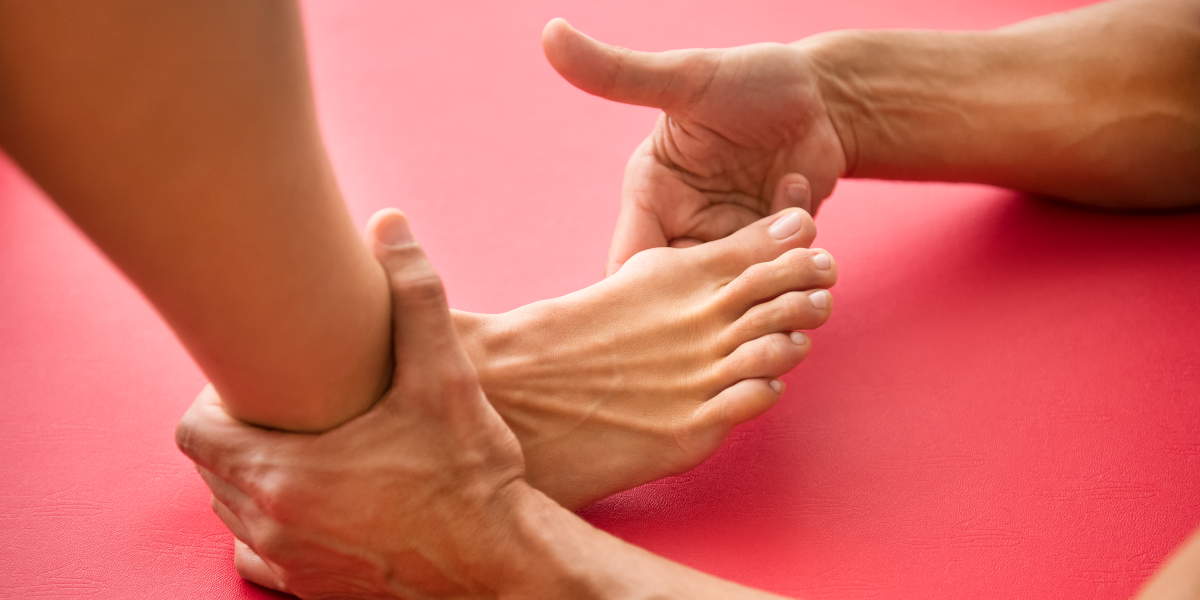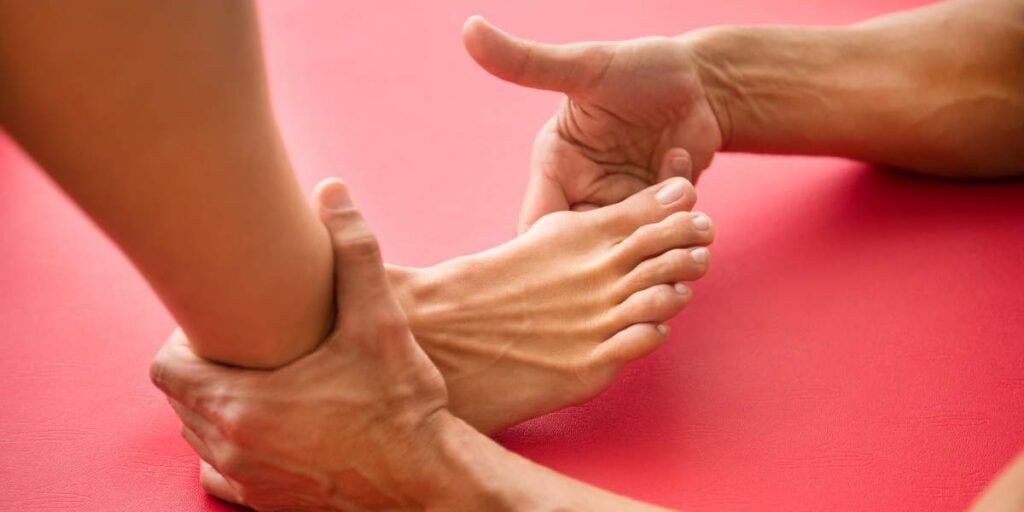 What causes a bunion to form?
There are many possible causes of bunions; they are complex deformities that can have multiple interacting causes, such as:
Genetics
Many patients are genetically predisposed to developing bunions. They may have inherited loose ligaments or flat feet, both of which contribute to bunions.
Structural abnormalities
A shortened, misshapen first metatarsal bone, Morton's toe, flattened arches, or asymmetry of the legs can increase the likelihood of developing bunions. A foot injury near the base of your big toe could significantly alter the structure of the foot, which may lead to a bunion.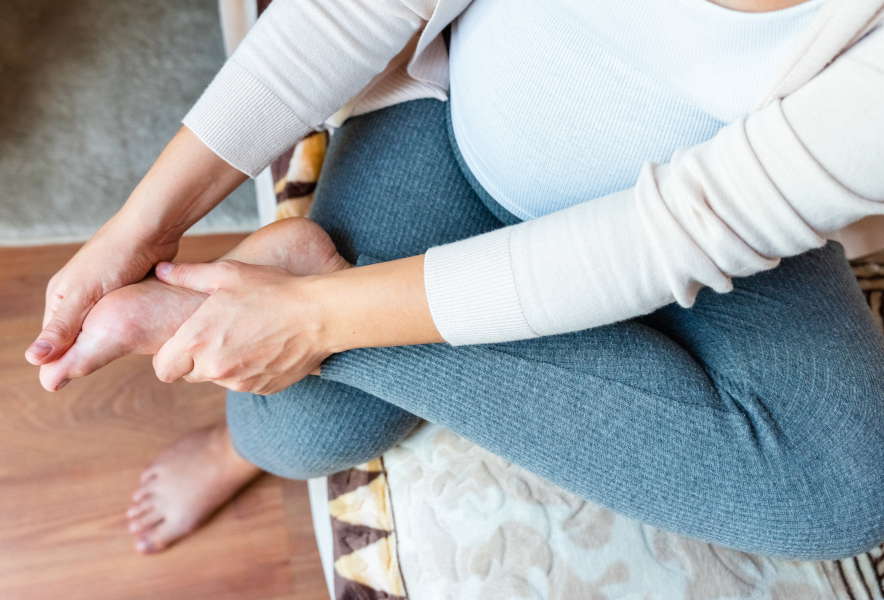 Pregnancy
The hormone relaxin — which helps widen a woman's pelvis during pregnancy — can soften the cartilage and loosen the ligaments of the foot, causing bunions.
Wearing improper shoes
Pointed-toe shoes force the toes into an unnatural position; high heels can cause tightening in the calf muscles. This shifts load bearing onto the front of the foot and gradually collapses the arch. All of which contribute to bunion formation.
What happens if you leave a bunion untreated?
Bunions left untreated can cause complications that lead to other conditions. Complications of untreated bunions include:
Severe and worsening discomfort/pain
Untreated bunions become extremely swollen, red, and painful. Overcompensating for bunion discomfort can lead to pain throughout the body including the foot, ankle, lower leg, knee, hip, and back.
The more severe the pain and discomfort, the lower the quality of life.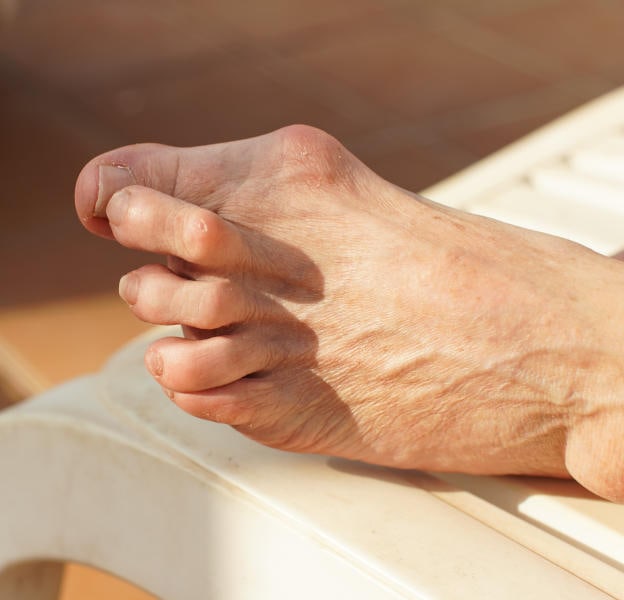 Crossover toe
When a bunion goes untreated, the second toe can cross over the big toe. A cross-over toe occurs from damage to the ligaments supporting the toe, causing a muscle imbalance. This leads to dislocation and crossing over of the second toe.
Metatarsalgia and hammertoes
Metatarsalgia is an inflammation of the bones in the ball of your foot. Overcompensating when walking and placing pressure on the metatarsal bones of the foot can lead to inflammation. This causes an abnormal bend in the middle joint of a toe (hammertoes).
Often, hammertoes will form on the second toe, and corns, calluses, ingrown toenails, or blisters will arise from the pressure. When this occurs, bunion and hammer toe surgery may be necessary
Difficulty standing up or walking
Bunions alter a person's gait and make balance harder to maintain. As the bunion gets bigger, it becomes increasingly difficult to carry the body weight due to the pain, making it difficult to walk.
When mobility is limited — especially in seniors — this can increase the chance of disastrous falls.
Osteoarthritis and bursitis
Sustained, extensive damage from an untreated bunion may cause the cartilage of the joint in your big toe to deteriorate and become inflamed causing osteoarthritis. It can also cause inflammation and swelling of the fluid-filled sac called bursae. These sacs act as cushions between the bones.
Will a bunion go away? Is there bunion treatment without surgery?
There are many bunion treatment options to stop bunions from getting worse. But non-surgical treatments only provide temporary relief. These remedies include splints, padding, anti-inflammatory medications, corticosteroid injections, icing the joint, footwear with a wide toe box, activity modifications, and orthotics.
Foot surgery is the only way to eliminate a bunion permanently. A bunion getting bigger will never get smaller.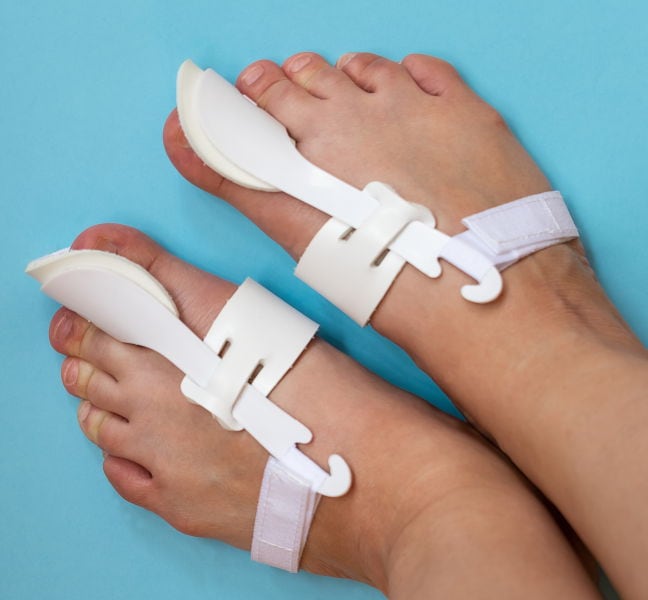 How do I know when a bunion requires surgery?
There is no specific time to get bunion surgery. Yes, bunion surgery (bunionectomy) is the only way to permanently correct a bunion, but our podiatrists usually only recommend bunion surgery when:
The bunion is consistently causing foot pain.
The pain is limiting activities and affecting the quality of life.
Work shoes are too painful to wear.
Custom orthotics (shoe inserts) have not helped.
Over-the-counter anti-inflammatory medication (ibuprofen, naproxen) is not providing adequate relief.
When nonsurgical treatments fail to relieve extreme bunion pain, and the pain interferes with daily activities, it's time to discuss surgical options with a podiatrist. Together you can decide if surgery is the best option for you.
Do bunions grow back after surgery?
Over a patient's lifetime, there is about a 20% chance of recurrence (the bunion coming back after surgery). A mild bunion recurrence is well-tolerated by most patients. Significant bunion recurrences that cause problems and require further surgery are much less common.
Recurrence may happen when:
The bunion isn't fully corrected at the time of surgery or the wrong bunion procedure was used.
Postoperative directions weren't followed.
The surgery results in an overcorrection.
Problems after bunion surgery include either a recurrence or overcorrection and may require a second operation.
Why choose the Bunion Institute for your bunion care?
If you're experiencing bunion pain, foot pain, ankle pain, or heel pain, we're here to help. Our nationally recognized foot and ankle podiatry experts offer the most advanced bunion solutions and the highest success rates in the nation. Our doctors of Podiatric Medicine have years of experience and are leaders in the research and treatment of all bunion conditions.
The Bunion Institute's overriding goal is to get you back to your normal activities with virtually no pain or scarring. We work hard every day to fulfill our mission to deliver the best bunion care available anywhere.
At the Bunion Institute (an affiliate of the University Foot and Ankle Institute), we take our patients' safety seriously. Our facility's Covid-19 patient safety procedures exceed all CDC recommendations. Masks are always required in our facilities.
To schedule a consultation, please call (855) 814-3600 or make an appointment online.
Bunion Institute is conveniently located throughout Southern California and the Los Angeles area. Our foot doctors are available at locations in or near Santa Monica, Beverly Hills, West Los Angeles, Manhattan Beach, Northridge, Westlake Village, Granada Hills, Valencia, and Santa Barbara.