Also known as hallux valgus, bunions are a common foot problem in the U.S., affecting a quarter to a third of adults at some point in their life. This is a painful degenerative condition where your metatarsophalangeal (MTP) joint — which connects the base of the big toe with the rest of the foot — starts sliding out.
As they progress, bunions can create a full-on hammertoe — which is when your second toe also starts to slide out or ends up under the big one. This is painful enough by itself, but once you're already dealing with fatigue, swollen ankles, and back pain? Then it can quickly turn unbearable.
Unfortunately, pregnancy and bunions are closely connected: the incidence of bunions skyrockets for moms-to-be. Read on to learn what to expect (from your feet!) when you're expecting.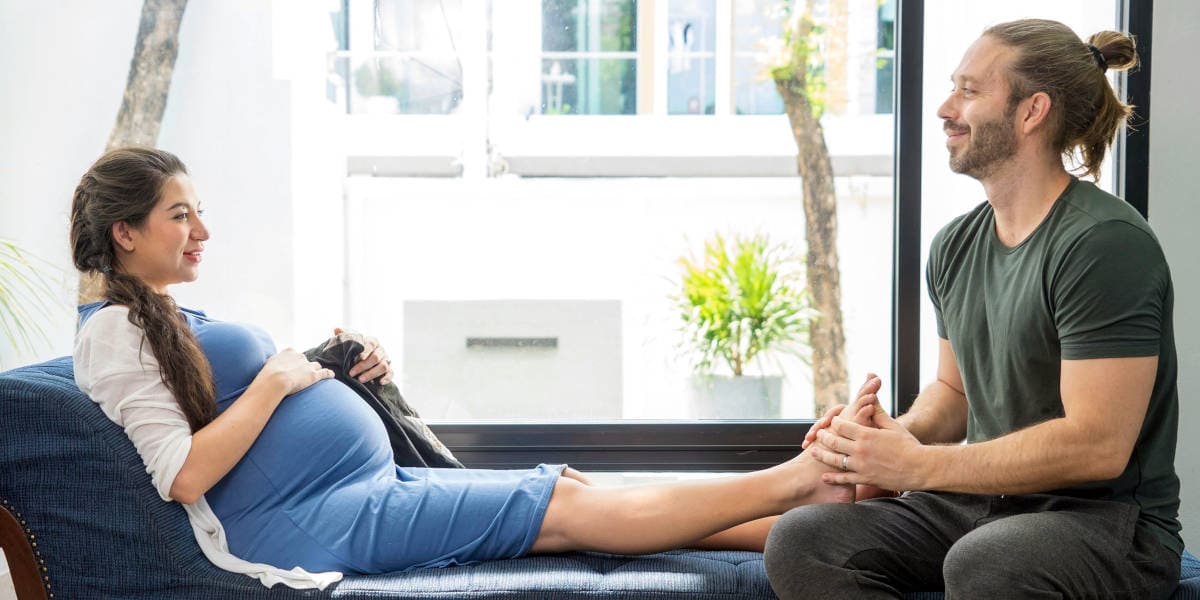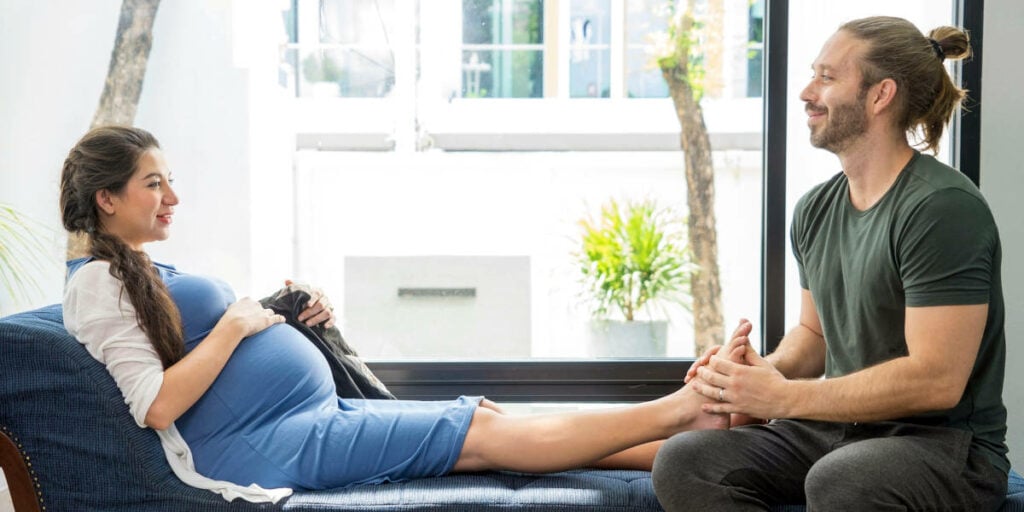 Congratulations! It's a pregnancy bunion?
How do you know if you're suffering from bunions? Take a look at your feet – you might need help from a mirror at this point!
If you spot a bump on the inside of your foot, where the innermost bone of your foot meets with the big toe, it might be a bunion. It might look like a bone growth or deformity, but it's actually just a misalignment of the bone. The head of the first metatarsal is shifting outward to form the protrusion.
Alternatively, you may see it's your little toe that's shifting. This is known as a bunionette or a tailor's bunion. These rarely get as serious or painful, but podiatrists often see them together.
How does pregnancy cause bunions?
Pregnancy affects the whole body. Some of it is good — your hair and skin are likely now at their best — but a lot of it is also uncomfortable. It shouldn't be a surprise that pregnancy also impacts your ligaments and joints.
Now, before we continue, we need to clarify one thing: pregnancy doesn't directly cause bunions. The causes of bunions vary, and this is as true for pregnant women as for the rest of the people. Some of the common factors that contribute to bunions include spending a lot of time on your feet, wearing poorly-fitted shoes or high heels, or having flat feet. Chronic conditions like rheumatoid arthritis can also increase your risk.
But during pregnancy, two key things happen that also affect your big toe joint and may prompt a visit to your podiatrist.
How do pregnancy hormones affect toe joints?
Most of the body changes that happen during pregnancy are driven by hormones. In particular, the hormone relaxin can have a huge effect on joints and bones. During pregnancy, this hormone helps progressively loosen your joints and allows bones in the pelvis to spread slightly. This will make labor easier, but it will also loosen your other joints, feet included.
Now your toes are left defenseless against wear, tear, and gravity — and BAM! Pregnancy Bunion!
Extra weight and pregnancy bunions
At the same time, gravity also creates extra problems for our feet. The rapid weight gain of pregnancy will increase the pressure on your feet, soles, and toes. This can cause you to shift your weight when standing, making your arches unstable, and pushing the metatarsal bone outward.
Are bunions reversible?
Unfortunately, no. Pregnancy usually comes with an expiration date, but bunions tend to get worse unless treated. Even after the baby arrives or the baby weight is gone, any damage to your feet will stay. During the coming years, lifestyle habits that made you sensitive to bunions in the first place will help them grow.
There's one more caveat: pregnancy won't just increase your risk of bunions or chronic foot pain, it can also create extra corns, calluses, and infected ingrown toenails. And during pregnancy, you need to be extra careful about any opportunistic infections, as they can create complications.
The key here is to address any orthopedic problems as soon as they appear and keep them from progressing.
How to manage bunion pain until your due date
At many podiatric practices, the go-to treatment option for bunions is surgery — but it's hardly ideal during pregnancy. This doesn't mean there's nothing you can do to deal with bunion pain or to keep them from progressing.
At-home pain relief
When you're pregnant, many of your go-to pain relief options are no longer accessible. For example, ibuprofen is generally not recommended during pregnancy, especially if you're over 30 weeks along. This is also when the discomfort tends to be at its worst!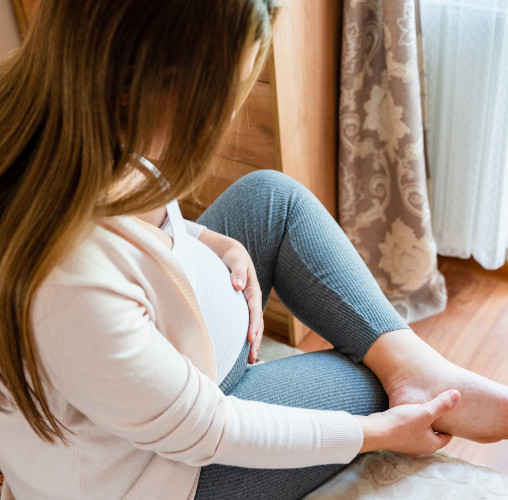 Some simple alternatives for pain relief include:
If, instead, you'd rather keep your pain levels in check, there are a few extra adjustments you can make. First, switch to comfortable shoes with a wider toe box. Try to stay off your feet during the day and keep them elevated when it's time to rest. Then, check with your local podiatry specialist to explore extra custom options.
Baby-safe bunion management
Orthotics can both prevent pain and provide you with extra support, which will keep bunions from progressing. These include:
gel shoe inserts
custom bunion pads
toe spacers
night-time splints
Many of these options are custom-made around your specific foot shape and size. You'll need to see an outpatient podiatrist for measurements and specific recommendations.
How can I treat bunions after pregnancy?
Many custom orthotics you get while pregnant will likely still work after it. At most, you may need to adjust their size — but you'll definitely need to keep an eye out to make sure they don't start growing too quickly.
Later on, if bunions continue to get worse, you may want to consider surgery. Bunion surgery will likely require some time off your feet, often followed by physical therapy. Unfortunately, the first few years after pregnancy are particularly hectic, so it's best to delay the process as much as you can.
Need help for your pregnancy bunions in Los Angeles? Try Bunion Institute
The surgeons at Bunion Institute (a subset of University Foot and Ankle Institute) are internationally recognized for their advancements in the treatment of bunions. BI's surgeons are experts in both bunion surgery and non-surgical bunion management.
To schedule a consultation, please call (855) 814-3600 or make an appointment now.
University Foot and Ankle Institute is conveniently located throughout Southern California and the Los Angeles area. Our podiatrists and foot and ankle surgeons are available at locations in or near Santa Monica, Beverly Hills, West Los Angeles, Sherman Oaks, the San Fernando Valley, Manhattan Beach, the South Bay, LAX, Calabasas, Agoura Hills, Westlake Village, Valencia, Santa Clarita, and Santa Barbara.