When it comes to foot problems, bunions are a common condition that can cause discomfort and affect quality of life. As many as 1-in-3 Americans are living with bunions.
Understanding what bunions are and what causes them to become inflamed can help you take control of your foot health.
What are bunions?
Bunions, also known as hallux valgus, are bony protrusions that can develop at the base of the big toe. They form when the metatarsophalangeal (MTP) joint at the base of the big toe becomes misaligned, causing the toe to lean towards the second toe. Over time, this misalignment leads to the formation of a bony bump on the side of the foot near the big toe. There is also a related condition called a bunionette, or tailor's bunion, which is a bunion on the outside of the pinky toe. For the purposes of this article, we'll be referring to bunions of the big toe.
These bony protrusions can vary in size and severity. For some, bunions may be painless and cause only cosmetic concerns, but for others, bunions can be painful and limit mobility.
It's important to note that bunions can progress and worsen over time if left untreated. Early intervention and proper management can help alleviate symptoms and prevent further progression. If you suspect you have a bunion, it is wise to consult with our bunion experts for an accurate diagnosis and appropriate treatment options.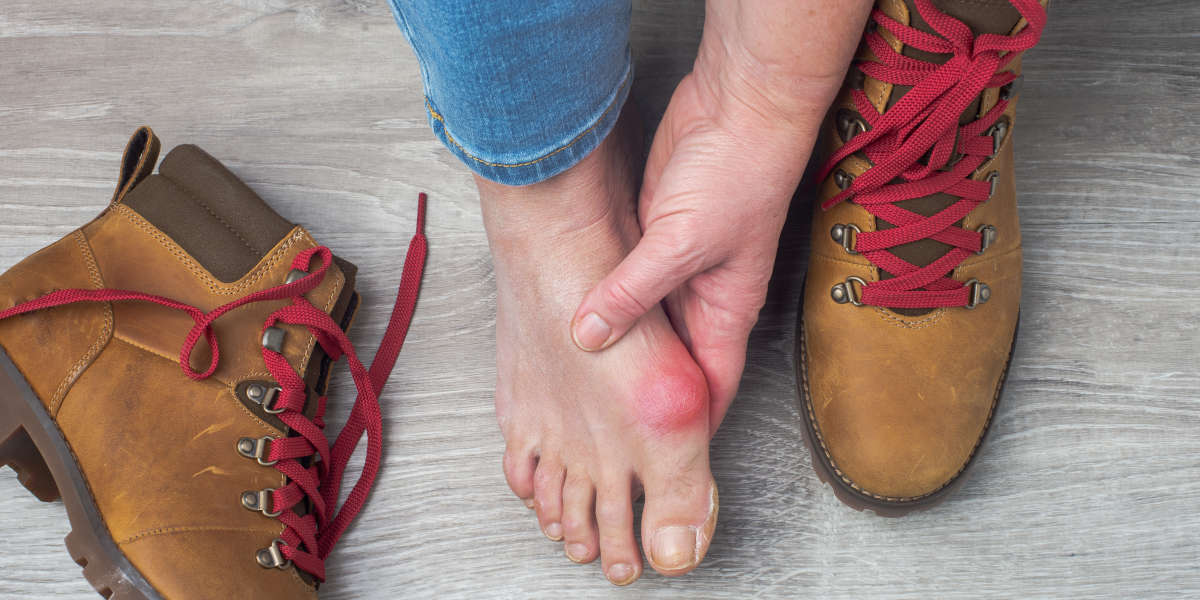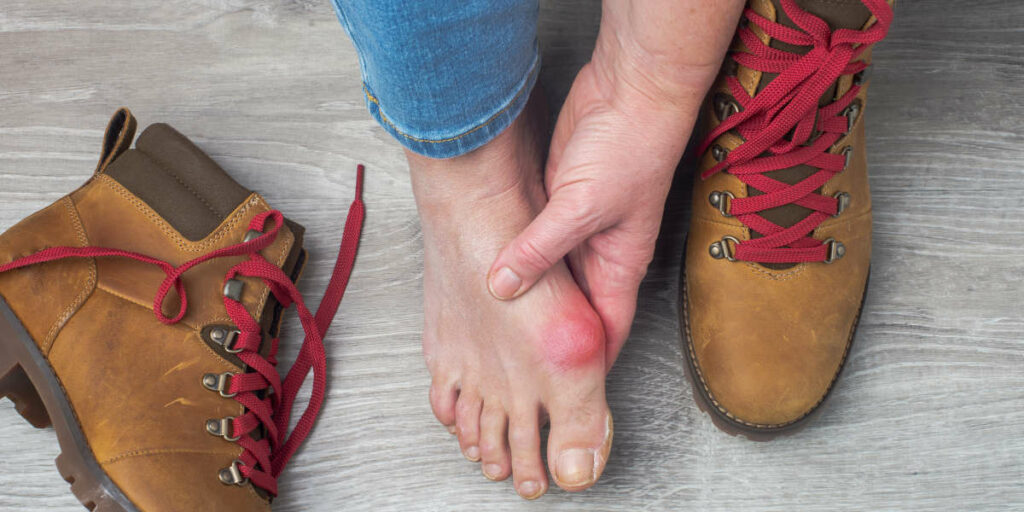 Inflamed Bunions: causes and symptoms
Most people only think of a bunion as a bony protrusion on the outside of the foot. However, the American Academy of Orthopaedic Surgeons notes that there is much more going on beneath the surface. The metatarsals (long bones of the foot) put pressure on the surrounding soft tissue and ligaments of the foot, possibly resulting in inflammation and pain.
While some people won't experience painful bunion symptoms, the pain and discomfort of inflamed bunions can interfere with daily activities.
What causes inflammation in bunions?
Inflamed bunions can occur due to a variety of factors. The primary cause is the misaligned big toe joint putting pressure on the surrounding tissue.
The bony bump of a bunion can also become irritated from rubbing against tight, narrow shoes or being compressed into pointy high-heeled shoes. This pressure and friction can irritate the skin and potentially inflame the tissues around the big toe joint.
Patients with rheumatoid arthritis are also at increased risk of inflamed bunions. This is because their joints are already prone to inflammation.
What are the treatment options for inflamed bunions?
At the Bunion Institute, our podiatrists try to avoid invasive bunion surgery as much as possible. If we catch your bunion early, we have many non-surgical treatment options for relieving your pain and slowing bunion progression. You should wear shoes that fit properly and have a wide toe box to avoid friction and irritation of the bunion. Bunion pads, bunion splints, shoe inserts, and toe spacers are all available over the counter and can help hold your toe in a normal position or relieve pressure on your bunion (and therefore reduce inflammation).
For especially painful bunions, our experts also provide custom orthotics to provide support and cushioning for your feet.
If you put off going to the doctor, your bunion will continue to progress. For severe bunions, surgery may be our only option.
Pain management for inflamed bunions
While non-surgical intervention can prevent future pain, it isn't a perfect treatment. When you shove your feet into ill-fitting shoes for a formal event, spend a long day on your feet, or forget to use your orthotics, you may still experience bunion discomfort or pain. For this occasional pain, nonsteroidal anti-inflammatory drugs (NSAIDs) such as ibuprofen or naproxen can reduce inflammation and thereby reduce your pain.
Ice packs can also bring down soft-tissue swelling and reduce your bunion pain.
Why is the Bunion Institute the best place for bunion treatment in Los Angeles and Southern California?
The Bunion Institute is led by a team of highly qualified and caring podiatry experts and orthopedic surgeons. Our goal is to create long-lasting partnerships with our patients, where we can explore the different bunion treatment options, from non-surgical pain relief to bunionectomy, and decide what works best for each person and lifestyle.
If the time comes for more invasive options, each of our team members is committed to creating a welcoming atmosphere.
To schedule a consultation, please call (855) 814-3600 or make an appointment now.
The Bunion Institute and its parent organization the University Foot and Ankle Institute are conveniently located throughout Southern California and the Los Angeles area. Our podiatrists and foot and ankle surgeons are available at locations in or near Santa Monica, Beverly Hills, West Los Angeles, Sherman Oaks, the San Fernando Valley, Manhattan Beach, the South Bay, LAX, Calabasas, Agoura Hills, Westlake Village, Valencia, Santa Clarita, and Santa Barbara.