Bunions and hammertoes are two separate foot conditions, but they can often occur simultaneously. In fact, bunions and hammertoes happen together so frequently that sometimes doctors will group them together as if they were a single foot condition.
What causes bunions and hammertoes to happen together? There is a link between how and why each condition develops – but the bottom line is that if your foot has a bunion, a hammertoe is likely to follow. Here's why.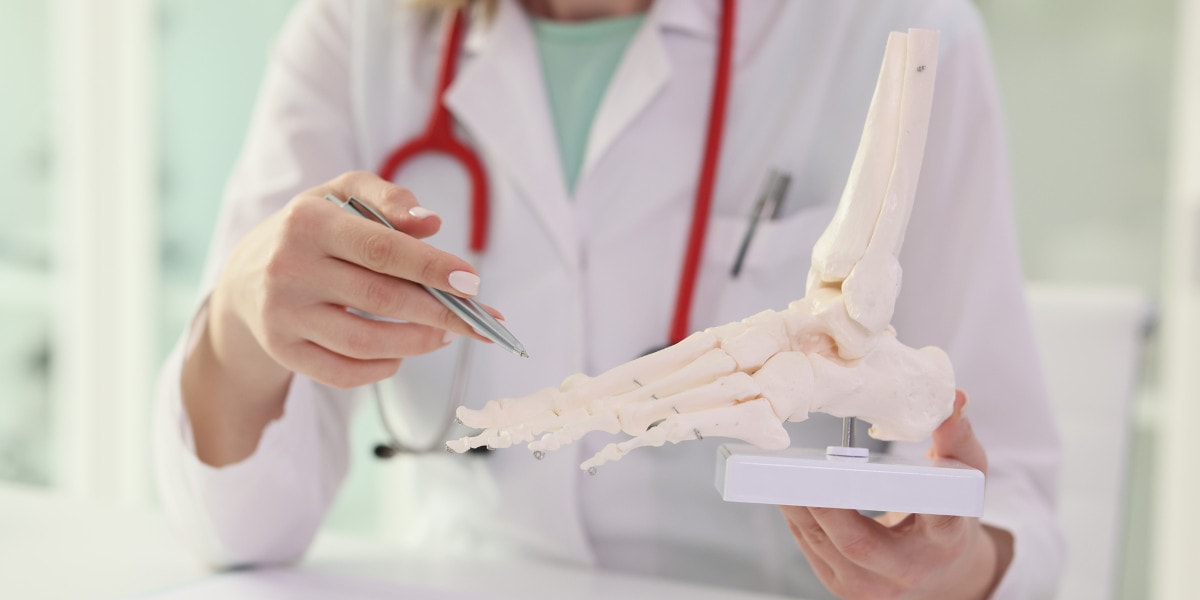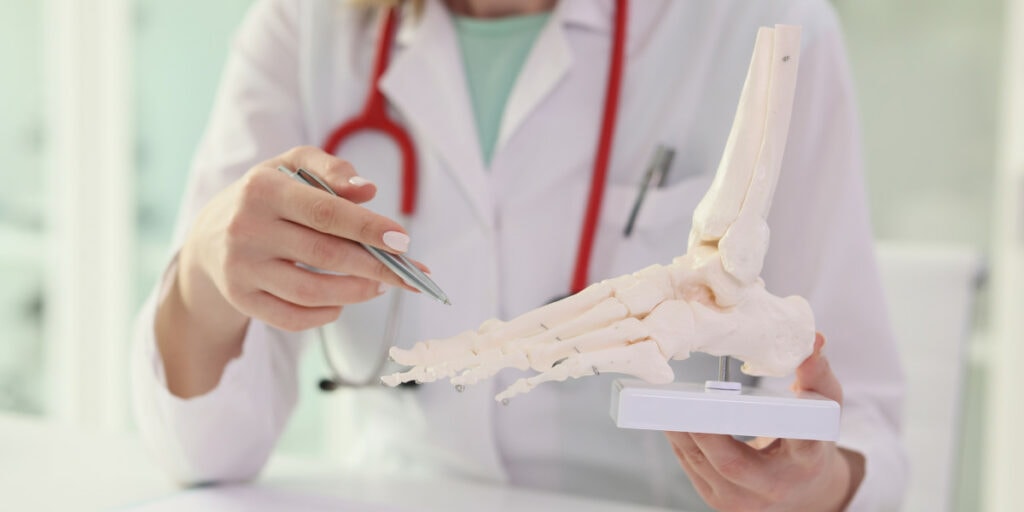 What is a bunion?
A bunion, known as hallux valgus, is a bump that develops at the base of the big toe on the side of the foot. Caused by the misalignment of the metatarsophalangeal joint, a bunion can make it difficult to find footwear, cause pain when rubbing against your shoe, or cause discomfort and pain while walking. When the big toe joint slips out of place, it causes the toe tip to pull toward the smaller toes, and things can quickly get crowded!
The cause of bunions can vary, from footwear to genetics and even pregnancy. Bunions usually get worse over time, especially if you wear ill-fitting shoes. If you don't take steps to limit the progression of a bunion, it can adversely affect your mobility and cause pain.
What is a hammertoe?
Hammertoes don't affect your big toe; instead, they occur in the second, third, or fourth toe. They're characterized by an abnormal bend in the toe, usually at the middle joint, that causes the tip of the toe to push downward. The condition can cause your feet to rub against your shoes, causing calluses and corns. Hammertoe also makes the toe stiff, limiting its ability to move and making day-to-day activities more difficult or painful.
Hammertoes can have various causes. Similar to bunions, ill-fitting footwear can contribute to the condition. Some health issues, like diabetes or an injury to the foot, may play a role, too. But frequently, the exact cause can't be determined.
What is a mallet toe?
A mallet toe is similar to a hammertoe. However, the bend occurs at the joint just below the toenail of the affected toe, instead of pressing the pad of the too-flay, mallet toe causes a curled appearance. The condition predominantly affects the second toe but can occur in the third and fourth toe as well. Improper footwear is usually the culprit, but injury and illness can cause the condition too.
What are claw toes?
Another condition similar to hammertoe is claw toes. The toe joint rounds the entire toe so that it curls back toward your foot, almost like a claw.
Claw toes often occur in all of the smaller toes and affect all the joints of the affected toes. Like the conditions above, claw toes may be caused by your choice of footwear, although they can also be hereditary.
Why can you have bunions and hammertoes at the same time?
You're more likely to develop a hammertoe if your second toe extends beyond your big toe. When you wear shoes, the pressure from the end of the toe box rests on the longest toe. Prolonged wear and tear can cause it to curl, resulting in a hammertoe.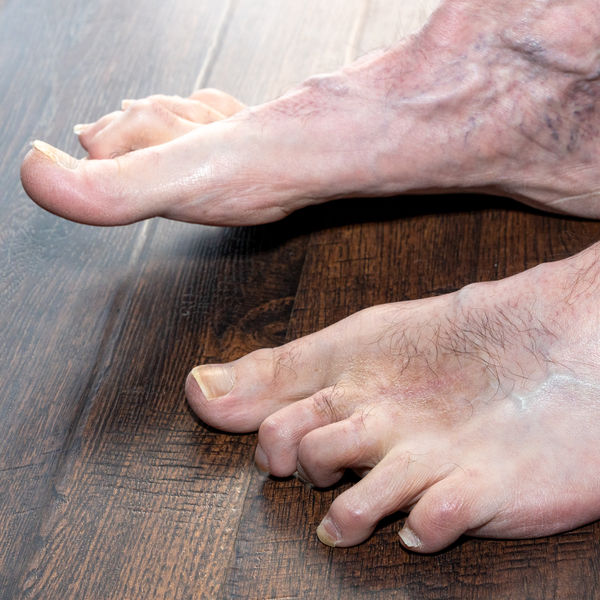 That is because if your toe is repeatedly forced into this curled position, the tendons and muscles may become stiffer and shorter over time. Even when you take your foot out of the tight shoe, your toe will remain bent.
This is why bunions are considered a risk factor for hammertoes. The joint deformity of a bunion crowds the other toes, making them lie in unnatural positions. Not only can the misalignment of your toes encourage the abnormal bend of the toe joint associated with hammertoe or mallet toe, but if a bunion causes your big toe to pull toward the others, it usually makes it shorter in length than your second toe.
So, while you may not be born with the foot type that puts you at risk of a hammertoe, developing a bunion can alter your foot structure and increase your susceptibility.
Do hammertoes cause bunions?
You are not necessarily at risk for developing a bunion if you have a hammertoe. Because hammertoes affect the second joint of the smaller toe, they don't generally put pressure on the big toe or its joints.
However, factors such as ligament or joint problems, diabetes, genetics, and poorly fitting footwear can increase your risk of both types of foot deformity.
That being said, bunions and hammertoes have similar causes, namely improper footwear. Therefore, you could develop both conditions simultaneously due to tight and narrow shoes that put pressure on the toes. It's clear these foot deformities share a link in their development and, as you will see, their treatment and prevention too.
Treatment options for bunions and hammertoes
Because bunions and hammertoes share causes, they also share preventative measures. Non-surgical interventions for bunions and hammertoes mostly focus on relieving pain and preventing the progression or worsening of the condition.
Non-surgical treatments for bunions and hammertoes include:
Well-fitting shoes. Shoes should have a wide toe box and good forefoot depth to prevent pressure being put on the toes or toes being pushed into unnatural positions. Avoid tight shoes and high heels as much as possible, as these can cause calluses and blisters and push the big toe toward your smaller toes — potentially worsening your bunion.
Shoe inserts. Over-the-counter insoles, bunion splints, and toe pads can provide extra support to your feet and toes and relieve bunion and hammertoe pain. At Bunion Institute, we can craft custom orthotics to cushion your toes and hold them in a more natural position.
Toe stretches. For some patients, gently stretching and exercising the toes at home can loosen tight ligaments, relieve the muscle contracture, and flatten out your hammertoe. In some cases, regular exercise can relieve the muscle imbalance that results in curled, uncomfortable toes.
More advanced bunions and hammertoes may require surgery. At Bunion Institute, our surgeons are experts in multiple types of bunion surgery. In severe cases, if a hammertoe limits your daily activities, hammertoe surgery we can also perform hammertoe surgery.
Why is the Bunion Institute the best place for bunion treatment in Los Angeles and Southern California?
The Bunion Institute is led by a team of highly qualified and caring foot care experts. Our team's goal is to create long-lasting partnerships with our patients. Whether you're experiencing hammertoes, bunions, or a bunionette, we always start with the least-invasive treatment option before resorting to state-of-the-art bunionectomy techniques.
To schedule a consultation, please call (855) 814-3600 or make an appointment now.
The Bunion Institute and its parent organization the University Foot and Ankle Institute are conveniently located throughout Southern California and the Los Angeles area. Our podiatrists and foot and ankle surgeons are available at locations in or near Santa Monica, Beverly Hills, West Los Angeles, Sherman Oaks, the San Fernando Valley, Manhattan Beach, the South Bay, LAX, Calabasas, Agoura Hills, Westlake Village, Valencia, Santa Clarita, and Santa Barbara.