It's not unusual for high heels to cause foot pain. But when the pain turns to redness, swelling, and tenderness at the base of the big toe, you might wonder if your stylish shoes could be causing bunions.
What is a bunion?
Bunions are one of the most common foot problems women (as well as many men) encounter, according to the American Academy of Orthopaedic Surgeons. They are bony bumps that form at the base of the big toe joint. The bump is the result of a deformity of the metatarsophalangeal (MTP) joint. When the first metatarsal of the foot shifts outward due to the protruding joint, the big toe starts pointing inwards toward the second toe.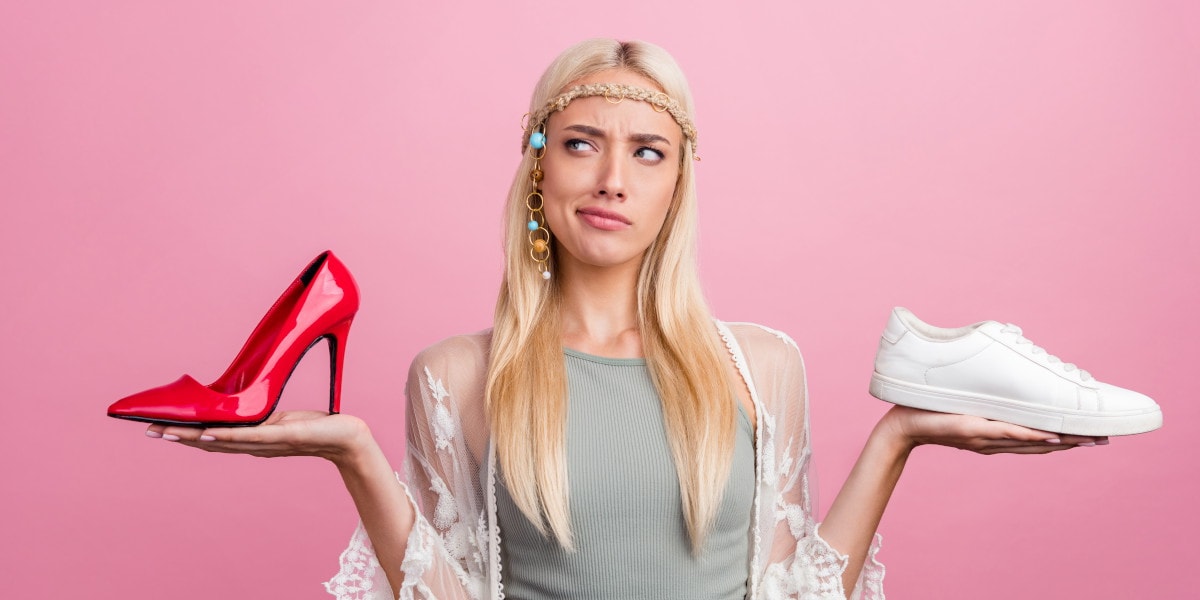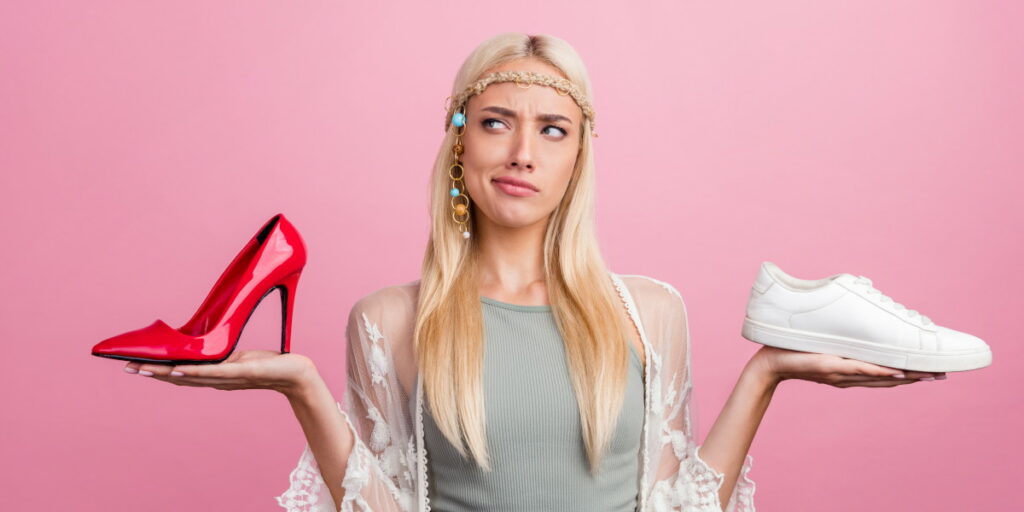 Do high heels cause bunions?
Not exactly. But bunions (also called hallux valgus) can be irritated by regularly wearing high heels. This is one reason women are 10 times more likely to develop bunions. Another is because women's professional and dress shoes are more likely to be ill-fitting than men's.
Nevertheless, it's a myth that tight shoes alone cause bunions; they are just one of the various risk factors.
I know this may come as a shock, but fashionable high-heeled shoes are not built for comfort (who knew?). Or, for that matter, proper foot support.
If you take a moment to think about your favorite pair of heels, you might realize that they're narrow, pointy, and not designed to distribute pressure evenly. Your big toe is squished against your other toes, sometimes finding space underneath or overtop of them. When it comes to high heels, a bunion may develop because your foot is forced into an unnatural position. Furthermore, the shoe tips your weight forward, further jamming the toes into the point of the shoe.
Wearing heels with bunions may turn a mild bunion into a severe one. High heels and bunions obviously don't mix. But are there other things that can cause this painful condition?
What causes a bunion?
So, if high heels don't necessarily cause bunions, what else causes them?
Can pregnancy cause a bunion?
Yes! Pregnancy can spawn bunions. When pregnant, the hormones that loosen the pregnant person's pelvis to make room for the baby can also loosen the bones in their feet, causing bunions.
Do health conditions cause bunions?
Other health issues like neuromuscular conditions and rheumatoid arthritis can cause bunions (as well as other ‌foot conditions like flat feet or a neuroma).
Are bunions genetic?
Another very common reason for developing bunions is the particular foot structure you were born with, which is usually inherited. This means bunions are known to run in families.
Are you toughing out your bunion pain? You should think again
Even if you're dealing with a mild bunion, don't ignore it! Leaving a bunion untreated can cause a host of other problems. The pressure the big toe puts on the other toes could cause corns or hammertoes. They could develop an ingrown toenail or calluses.
As the pain and deformity grow, your gait shifts weight onto the other toes, which they were not built to sustain. Exercising, dancing, and even walking might become too painful to bear. Women are more likely to develop bunions as they age, which could lead to disability and a sedentary lifestyle.
How to mitigate bunion pain without surgery
There are some easy, inexpensive, and non-invasive methods for dealing with the protrusion of a bunion. The gist of these treatments is to take pressure off the joint and give your foot better structure.
Tip #1 – Wear the right shoes
Making the right shoe choices will help reduce foot pain when you wear shoes. The best shoes are those with wide and flexible soles. Ensure your foot is supported, and there's enough room in the toe box for your bunion to fit. Shoes for bunion relief should never be narrow. You shouldn't feel like you're forcing your foot into your shoe. Shoes should be made to fit feet, not the other way around!
The back of the shoe should fit snugly around your heel and keep it from sliding around inside. Heels should be no more than an inch high. If you have a supportive shoe but it has a narrow toe box, use a stretcher to help it accommodate your bunion. Alternatively, you could find bunion dress shoes that are perfectly designed to protect your MTP joint and your sense of style. Your feet will thank you.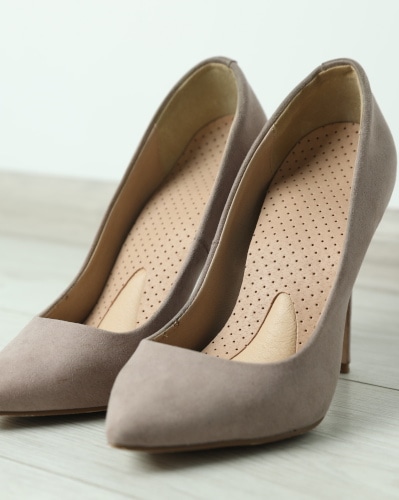 Tip #2 – Use orthotic inserts
An orthotic insert could help give your foot support if you're going to be walking or standing a lot for your job. Visit your podiatry specialist to get custom fitted for a custom orthotic.
Bunion cushions are another aid for women with bunions. These gel bunion pads go over your joint and inside your shoe, helping provide a barrier that can reduce pain.
Tip #3 – Try therapeutic treatment options
Wearing a splint while you sleep can help to hold the toe straight, relieving the pressure and easing the pain. If your bunion is especially irritated, pamper it with warm soaks, whirlpools, and massages. Ice packs can provide cooling relief. You can also take a nonsteroidal anti-inflammatory like ibuprofen under your doctor's direction.
Those with bunions may also seek physical therapy as one of their treatment options. Physical therapy can help improve muscle and ligament strength, increase function, and lower pain.
When should I have surgery for bunions?
Since surgery is the only way to "cure" bunions, in some cases, you may need surgery, especially for painful bunions. In our opinion, the number one reason to have bunion surgery is when you are in pain. The second is when they get in the way of your work.
A consultation with our podiatrists and foot surgeons will tell you all you need to know about your bunion condition and if you need surgery.
Thankfully, revolutionary advancements in bunion surgery, such as our state-of-the-art Lapiplasty technique can allow for immediate weight bearing following surgery. They also boast a 99% success rate (meaning the bunion never comes back)!
While many patients can wear heels around six months post-operation, you should treat your feet carefully. If heels triggered your bunions before, you should wear them only for special occasions. Comfortable, wide, and flat shoes should be your post-surgery go-to to promote foot health while the area is healing.
Luckily, a bunion, as painful or ugly as it is, is not a medical emergency. Get some comfy shoes. Soak and ice your feet. Get fitted for an orthotic. And then seek the advice of our foot and ankle specialists.
Why choose the Bunion Institute for your bunion treatment or surgery?
Our foot doctors are internationally recognized for their surgical expertise and experience with all types of bunion correction surgeries. Even though we're surgeons, we believe that surgery should never be taken lightly and only pursued when other treatment options fall short or aren't feasible.
To schedule a consultation, please call (855) 814-3600 or make an appointment now.
University Foot and Ankle Institute is conveniently located throughout Southern California and the Los Angeles area. Our foot doctors are available at locations in or near Santa Monica, Beverly Hills, West Los Angeles, Manhattan Beach, Northridge, Westlake Village, Granada Hills, Valencia, and Santa Barbara.