What is a Bunion?
A bunion (also known as hallux valgus) is a bony bump that protrudes from the base of the big toe. A bunion can also form by your little toe, which is called a bunionette or tailor's bunion.
Many people mistake bunions for bony growths or crooked bones, but actually, a bunion is caused by a misalignment of the first metatarsal bone, which leads up to the big toe. The metatarsal has shifted outwards from its proper position. The head of the metatarsal juts out, forming the characteristic bump of a bunion.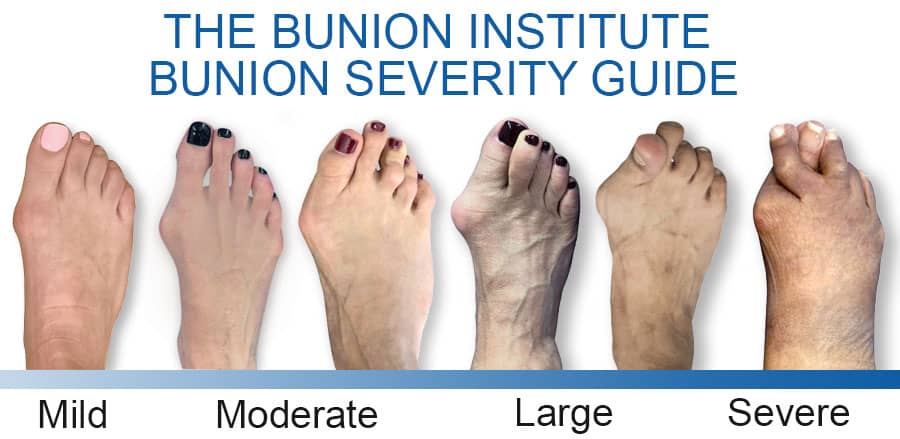 Bunions can be a very painful foot deformity, and their shape makes it difficult to comfortably wear certain types of shoes, particularly those with narrow toe-boxes which put more pressure on the forefoot and increase the likelihood of foot problems. Bunions get worse over time and can hasten the development of arthritis and/or a hammertoe deformity.
An early diagnosis can help you avoid further damage and deformity. Because the MTP joint flexes with every step, the bigger the bunion gets, the more painful and difficult walking can become.
---
Are bunions painful?
Bunions come in many shapes and sizes, and symptoms can vary from person to person. Bunions can be painless, and if so, can usually be treated conservatively, without surgery. However, bunions can become painful over time if they are ignored and some patients report throbbing bunion pain at night. Bunions can make it difficult to fit into shoes and attempting to wear ill-fitting or narrow shoes can result in friction, inflammation, and a painful condition called bursitis.
Over time, the bone itself can become bruised and inflamed, leading to painful bone cysts. Severe bunions can even progress to develop premature arthritis in the joints. This causes a deeper pain in the big toe joint and makes successful treatment much more difficult. An early diagnosis and treatment can help you avoid other foot problems as well as chronic, progressive pain, and joint damage.
---
Is surgery the only way to correct a bunion?
Technically, bunion surgery (a bunionectomy) is the only way to permanently correct a bunion, but we usually only recommend bunion surgery when:
Your bunion is regularly painful.
The pain is limiting your activities.
You are unable to wear shoes that are required for your job.
Custom orthotics (shoe inserts) have not helped
Over-the-counter anti-inflammatories (ibuprofen, naproxen) have not given adequate relief
Our very best medical advice is to not wait too long to discuss your condition and solutions with your doctor. Severe bunions can also cause rheumatoid arthritis in the big toe joint, sesamoid pain, hammertoe deformities, dislocation of the joint, and other orthopedic issues. These problems will complicate your corrective surgical procedures. They may be prevented if you seek surgery early.
Our state-of-the-art bunion correction surgeries include miniBuion Minimally Inavise Bunion Surgery™️, Osteotomy Bunionectomy, and Lapidus Forever Bunionectomy™️.
---
What causes a bunion?
In most cases, it is virtually impossible to pinpoint one cause for a particular bunion. The human foot is a complex mechanism, and likewise, bunions are complex deformities that can have multiple interacting causes, such as:
Genetics
Many patients are genetically predisposed to developing bunions. They may have inherited loose ligaments or flat feet, both of which contribute to bunions.
Structural abnormalities
A shortened first metatarsal, misshaped or missing foot bones, Morton's toe, flattened arches, or asymmetry of the legs can increase the likelihood of developing bunions. A foot injury could also significantly alter the structure of the foot, which may lead to a bunion.
Pregnancy
The hormone relaxin, which helps to widen a woman's pelvis when pregnant, can also loosen the ligaments of the foot, causing bunions.
Wearing Improper Shoes
Pointed-toe shoes force the toes into an unnatural position. Additionally, high heels can cause tightening in the calf muscles, which shifts load-bearing onto the front of the foot and gradually collapse the arch. Wearing these shoes instead of wider shoes for too many hours each day can accelerate the formation of bunions.
Anatomical causes of bunions
The structural basis of each bunion is what is known as hypermobility of the first metatarsal-cuneiform joint, a joint that is found in the midfoot.
Normal Foot Anatomy
In a normal foot, the first metatarsal points straight and is in alignment with the big toe at the top, and with the medial cuneiform bone at the base.
The first metatarsal runs parallel to the neighboring metatarsals.
The joints, tendons, ligaments, and muscles all work in concert to keep the bones in their proper alignment.
Bunion Anatomy
When there is an imbalance in the normal structures, the bones begin to shift. For any number of reasons, the first metatarsal-cuneiform joint becomes unstable. The ligaments can no longer hold the first metatarsal in place, and so it begins to drift outward and away from the second metatarsal.
This misalignment forces the base of the big toe outward as well, tilting the tip of the big toe toward the second toe. The metatarsal head forms a bump found on the inside of the foot.
Over time, the bump will rub against the ground and the inside of your shoes, stimulating the bone again and again. The bone responds to this overstimulation by growing extra bone, exacerbating the bunion protrusion.
---
Can a bunion deformity develop overnight?
No, but this is a common misunderstanding. Bunions always gradually develop over time. In some cases, the bunion appears to have formed "overnight," but this is an illusion. The swelling and irritation is a type of bursitis typically caused by the bunion rubbing against a tight shoe.
When the pressure is removed, the inflammation usually subsides, making the bunion appear to "look better today than it did yesterday." In actuality, the bunion is still there (as well as any callus) and the bunion needs treatment.
---
How do bunions develop and progress?
A bunion is a progressive deformity, developing and continually growing more severe over time. The metatarsal will keep shifting outward, causing symptoms to increase in severity.
The only way to stop the progress of a bunion is through corrective bunion surgery. But, with an early diagnosis and diligent conservative treatment, the progress of a bunion can be slowed, and no surgery may be required.
However, many patients fail to realize a bunion is forming until it begins to cause pain, or until the protrusion has grown noticeably large. Bunions can range from mild to moderate, to severe. Some patients have a small bump and experience no pain, while others develop a large bump, accompanied by arch collapse, deviated toes, stiffness, chronic foot pain, and pain in the calf.
The severity of the bunion will depend on how long the bunion has gone untreated, the type of shoes the patient wears on a daily basis, and the patient's activity level. Some patients will see a slower progression, while others will progress quickly. Most of the time, bunions develop equally on both feet. However, some patients only find a bunion on one foot or experience different levels of severity from one foot to the other.
---
Why choose the Bunion Institute for your bunion care?
If you're experiencing bunion pain, we're here to help. Our nationally recognized foot and ankle podiatry experts offer the most advanced bunion solutions and the highest success rates in the nation.
Our podiatric foot and ankle surgeons and podiatrists (DPM for short) have decades of experience and are leaders in the research and development of most modern bunion protocols and technologies.
At the Bunion Institute (an affiliate of the University Foot and Ankle Institute), we take our patients' safety seriously. Our facility's Covid-19 patient safety procedures exceed all CDC recommendations. Masks are required in our facilities at all times.
To schedule a consultation, please call (855) 814-3600 (24 hours a day) now.
We are conveniently located through the Los Angeles area with locations in or near Santa Monica (on Wilshire Blvd.), Beverly Hills, West Los Angeles, Manhattan Beach, Northridge, Downtown Los Angeles, Westlake Village, Granada Hills, and Valencia California.