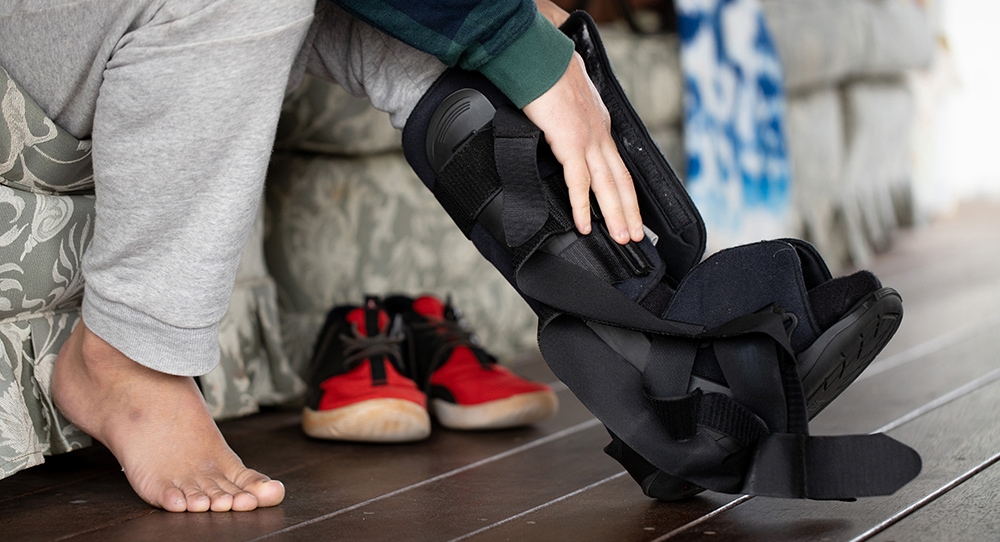 Our state-of-the-art minimally invasive bunionectomy offers immediate weight-bearing, less pain, and faster recovery than other types of traditional bunion surgery. Many patients have questions about our unique technique and what to expect before and after surgery. We hope this article answers your questions!
What to expect before Minimally Invasive Bunion Surgery?
Here is what you need to know as you prepare for minimally invasive bunion correction surgery:
No eating or drinking after midnight before the surgery.
Anesthesia and a "relaxing" medication will be given via IV in the surgery center's operating room; general anesthesia is not necessary for this type of procedure.
Once you are comfortable and relaxed, your orthopedic surgeon will give you a nerve block to numb your foot.
Minimally invasive bunion surgery recovery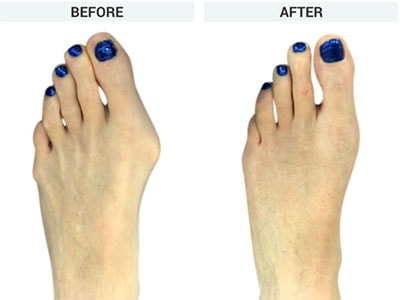 Immediately following the outpatient surgical procedure, your orthopedic surgeon will place a boot on your foot. The shoe should remain on until seen in the office for your first post-op visit. Once you are comfortable, you can go home with your chosen companion.
It is best to keep the foot elevated as much as possible during the car ride and while home to help reduce swelling. Crutches, a walker, or a wheelchair can be used, but MOST patients will not need them. You can place weight on the foot immediately following surgery.
Our patients rarely need pain medication of any significance. Most will take Advil and Tylenol for pain, but you will be given pain medication in case you need it.
About post bunion surgery checkups
We usually check your progress four times after your surgery, though if you feel you need more, we are more than happy to accommodate you. Here is a typical schedule and what usually happens at each visit.
Your post-surgery follow-up appointment (recovery time 1-2 weeks)
Your dressings will be changed, and follow-up X-rays will be taken.
You can now begin to get your very small incisions wet in a shower (but no soaking in a tub until your sutures dissolve).
You begin gentle range of motion exercises of the big toe to prevent stiffness.
You may resume driving in the special orthopedic shoe but should take care that you are comfortable braking and have full control of the car. We know this is obvious, be we have to mention that you should never take pain medication and drive!
A toe spacer or strapping should be used most of the time to hold the toe straight.
The orthopedic shoe or boot can now be removed at night, but we suggest wearing a sandal to protect the toe against bumps.
Your third follow-up appointment (recovery time 6-7 weeks)
X-rays for healing diagnosis may be done.
You can likely wear your own supportive shoes at this point (if comfortable). This may be done gradually over a week period and is not an instant shift from an orthopedic shoe to a supportive shoe.
You will likely be able to increase your normal activities. Know that it is normal for the soft tissue in your foot to swell after activities, for now.
Continue working on the big toe range of motion.
You may now stop using the toe spacer or strapping/taping unless it feels comfortable to keep doing it (for up to two months total after surgery).
Your fourth follow-up appointment (12 weeks)
X-rays may be taken if healing was incomplete during your third visit.
You can start running.
You can begin wearing heels.
Minimally Invasive Bunion Surgery and foot swelling
Swelling in the foot is usually the last issue to resolve, though many of our patients' swelling is no longer an issue after just eight weeks. Almost everyone else's swelling has resolved at 12 weeks, which is less than with other, more invasive techniques.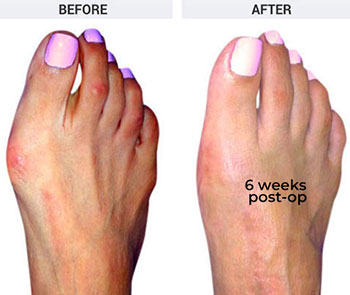 Of course, each patient heals at their own pace, everyone is different, and that is totally normal. You might take longer to heal, or possibly heal faster. Your doctor will always individualize your timeline as we see how you recover during each of your post-surgery appointments.
In the rare circumstance that your swelling takes longer to resolve, a compression sleeve may be used instead of a sock to reduce it and aid in your recovery.
Lastly, there are always risks with any surgery, which can include infection, wound healing problems, scarring, and swelling. Luckily these are very rare in our minimally invasive surgeries. But if they do occur, just know that they can affect your post-operative recovery timeline and outcome.
Why choose the Bunion Institute for your bunion care?
If you're experiencing bunion pain, we're here to help. Our nationally recognized foot and ankle podiatry experts offer the most advanced foot surgery solutions and the highest success rates in the United States. We are leaders in the research and treatment of all bunion (hallux valgus) conditions.
At the Bunion Institute (an affiliate of the University Foot and Ankle Institute), we take our patients' safety seriously. Our facility's Covid-19 patient safety procedures exceed all CDC recommendations. Masks are required in our institutes at all times.
To schedule a consultation, please call (855) 872-5249 or make an appointment now.
We are conveniently located through the Los Angeles area with locations in or near Santa Monica, Beverly Hills, West Los Angeles, Manhattan Beach, Northridge, Downtown Los Angeles, Westlake Village, Granada Hills, and Valencia California, to name a few.